Sky Train in Chiang Mai
You might of heard about the Thai governments plan to link Bangkok and Chiang Mai with a high speed rail network, yeah that sounds all good especially since I don't like to fly! But what about the public transport here in Chiang Mai, it sux! I hate sitting in the back of a red pickup truck rolling around chiang mai motorbike is ok during the evening when it's cool but the days it's scorching and driving a car well if you go downtown parking is a bitch, so why not create a sky train in Chiang Mai instead?
Not that anyone is going to listen to me anyway but if there was a sky train in Chiang Mai this is how i'd like it to work. I want to be able to hop on and go to any mall there is in Chiang Mai or will be soon, I want to be able to get to Thapae gate, Gard Luang and the night bazaar, I want to be able to get to the train station the bus station and the airport plus the main universities Chiang Mai, Far Eastern, and Ratchapak, (Payap not really sorry).  At least be able to get to the top of Nimman and close to the other nightclub areas and I'm golden. In fact if it were like this you could live in Chiang Mai and never have to risk your life on a bike!
With all the accidents that happen in Chiang mai and the lack of public transport it's just going to get worse I mean what is the plan here anyway, they have plans for building and investment but when it comes to Public transport it seems that the only plan they have here is to heard everyone on the back of a red pickup Pattaya they call them baht busses here we call them the red bus and it sux. Even in Pattaya it's so small you'd think they could come up with an easy plan there ey! What's up with this?
When you go to Bangkok you'll see all these private minibus companies where you can get in and shoot off to pretty much any part of the country no probs bit crowded but it seems that the only sector that is providing inter-state travel is private companies where is the government initiative?
I figure my sky train in Chiang Mai is only 20 miles long or 32 kilometers. It would take a lot of these damn smog filled red busses off the road which would be nothing but good news to most Chiang Mai residents who hate the things anyway.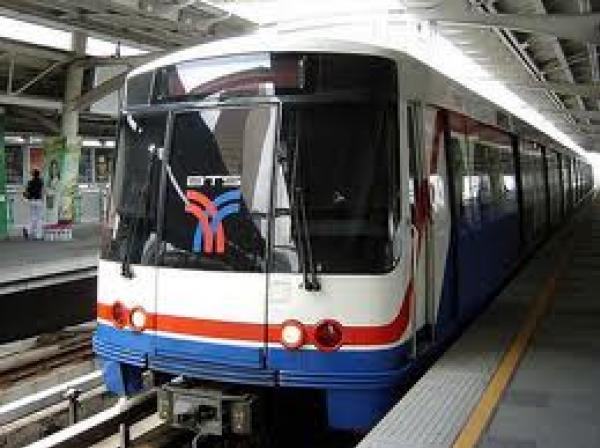 The government isn't allow people to build any tall buildings inside the moat or what you'd think would be the city center therefore it's growing up outside but how are people going to get there? It's just going to cause more traffic because we have to drive everywhere! Even the new convention center how are people going to get there? You ever seen what it's like on New Years along that road up there, you can't move even motorbikes have trouble getting through, they need something that isn't stopped by traffic lights and that's why I propose a Sky train, even maybe extending it to jed yord the convention center the 700 year stadium even to Hang Dong. I'd rather the sky train in Chiang Mai that makes this place a little greener than a fast train that's going to bring all the bangkok people up who will get here hop in a red bus and be shifted around causing more damn pollution, who's with me?
Related Posts: