Top 10 Best Kindle Fire Games
Have you bought the new Kindle Fire yet? If not then you might be missing out. While the Kindle Fire is a media consumption Tablet basically meaning you won't get much work done with it but as for browsing the Internet watching movies and playing games then the Kindle Fire is one of the cheapest and the newest Tablet PC's on the market. For most people it's about the download best android games.
Since the Kindle Fire has just been released not for a few weeks since the time of this article there really arn't a lot of games available for it however some of the kewl
Electronic Arts games are available on the Kindle
which makes downtime so much fun especially if your stuck on a bus from Bangkok to Pattaya. Here is my list of the best games available for the Kindle Fire.
How to buy a Kindle Fire If you don't live in the USA
1. Find the Difference 2 (Kindle Fire Edition)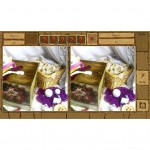 This is actually a fun kindle game for those who like a bit of a challenge on the kindle fire screen it looks great but a bit difficult if your in the same. It's basically spot the difference like they used to always have in the newspapers.
2. Mazes (Kindle Fire Edition)
If you love mazes then you'll love this Kindle Fire game. One of the best maze games I've ever seen in my life. You have to use the Pen for this one but don't think it's easy either. Some of the mazes here have my head twisted they are so difficult.
3. Pinball Park (Kindle Fire Edition)
The classic pinball game. Pinball Park for the Kindle Fire is awesome. It's got the whole 80's look when pinball machines used to be cool quite fitting I think.
You and the computer or you and a friend I like this game and it's got a cool glow to it with the graphics. Not something you'll spend hours and hours playing but the kids like it. Good Christmas download gift for someone perhaps?

5. MONOPOLY (Kindle Fire Edition)
I have to admit it, I am the Monopoly king! I've never lost a game! And when I got my new Kindle Fire this was the first game that I bought it's not exactly like the real thing and there is of course no cheating available on the Kindle Edition however the graphics are great and the game play is real. Playing the computer makes it more challenging than playing someone else but you can play other people through your wifi if you want.
6. SimCity Deluxe (Kindle Fire Edition)
I've never been a Sim kind of guy but Sim City is the class game and now available on the Kindle Fire it's OK but not for me, though you probably will like it. Same game as you come to expect from EA.
7. MADDEN NFL 12 by EA SPORTS (Kindle Fire Edition)
If you like sports game and playing grid iron or American football then you can't beat the madden game. It's got to be the best football game available on the Kindle Fire.
8. SCRABBLE (Kindle Fire Edition)
I can't spell worth a damn but I do love a good game of scrabble though admittedly I suck.
9. THE GAME OF LIFE (Kindle Fire Edition)
This is such an American game if there ever was one The Game of Life is probably better on the Kindle Fire than it is as a board game. The graphics are cool and the game play is fast.
10. Hidden Treasures Crossword (Kindle Fire Edition)
Well this day and age the newspapers are out and the games are in. This kindle game of hidden crosswords is really kewl. Though I still can't finish a damn crossword maybe if I play more of this game I'll be able to. I say start with scrabble first unless your good at crosswords then this game is for you.
Related Posts: