Kindle Fire HD review
Amazon continues to be a thorn in Apple's side with their well made, and yet dirt cheap tablets. The original Kindle Fire was well received and had strong reviews internet-wide. The Kindle Fire HD has some significant upgrades but still has a retail price of about 6,000 Baht, which is the same price the original Kindle Fire launched with. I thought Amazon might raise the price this time around on the base model, especially knowing that they take a bath on each tablet sold, but fortunately there was no price increase. Consider Amazon's business model for these tablets: Their goal is to get as many tablets in circulation as possible because they are first and foremost a content company. They want to sell you content and it helps their cause when their tablet is in your hands. So they're willing to lose roughly 1,500 Baht per unit just to have the chance to sell you books and music. Something about that 6,000 Baht amount really looks attractive, so this why they're doing their best to put out the best possible product at this price point.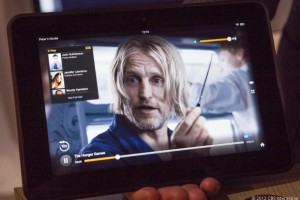 If you don't already own a tablet, this should be your first one. With the low price you can't go wrong, and Amazon's devices are considerably easier to operate than other tablets. They're customizable enough for technically savvy people to edit the home screen and options as they please, but out of the box the stock screen and options are set up in a way where anyone can easily figure it out even if they've never had a tablet or smart phone before.
There are a couple of different options for the Fire HD : the 6,000 baht gets you a 7 inch tablet with 16gb. You can pay a 1,500 to upgrade to 32GB. There is also an 8.9 inch model which is roughly 9,000 baht at 16gb and 10,700 for the 32gb model. For my money the choice would be the 6,000 baht option. The screen has so much pop with the new HD screen there's just no need for the extra size. And with Amazon's cloud service a lot of your music and movies/tv show downloads don't actually take up any room on your tablet, so 16gb is enough to get by.
Specifications for the 7 inch tablet:
1920x1200 HD display
Dolby audio and dual stereo speakers
1.5Ghz dual-core processor
Dual-band, dual-antenna Wi-Fi
Features:
Anti-Glare
Access to 20+ million songs, books, movies, and tv shows
All popular Applications (Apps) and games
Skype Video with front facing HD camera
Access to Amazon Prime
Cloud storage for all of your Amazon downloads
Kindle Free Time program
The Kindle Free Time program is a separate menu for children. Amazon has gone out of its way to make this feature stand out from all other tablets. IF you have a child, you don't need to spend an additional 8,000-10,000 baht for a children's tablet (yes they actually have those). Instead you can share your Kindle Fire HD with them and once they enter the Kindle Free time program, they're likely to be hooked to the tablet for hours on end. It's never too early to get your children used to using high end digital touch screen products; the sooner they master them the better position they'll be in to stay on top of technology as it soars forward.
Where the Kindle Fire HD really makes its mark is the quality of the screen as it relates to watching video or to reading books. Movies and Tv shows look amazing. And nobody beats Amazon for having easy to read screens; that's their bread and butter. In addition to having less formatting issues with most books, the settings and controls they give you are incredible; you can make your tablet look exactly like a real book if you're so inclined. If you read and you're stuck on paper books, now's the time to upgrade and this is the unit to make the move with. We're just starting to scratch the surface for e-book technology. Many e-book versions of books come with lots of additional media, links, and even videos. They're cheaper than an actual book, they don't take up any space, and you keep them forever in your cloud. So if you lose your Kindle Fire HD, you can access your previously purchased books from any computer or tablet. When you upgrade to a new Kindle, your library follows you upon your first time logging in. Again, if you've been putting off buying a tablet or a book reader, now's your chance to get a great machine that functions highly as both for just $200 USD!
If you have ever or will ever embark on a flight to and from Thailand, you need to have a tablet with you. If I had the choice between first class without the use of a tablet vs. sitting coach with my tablet…I'd have a difficult decision on my hands. They're that valuable when you're on a plane.
Related Posts: