Anti Pub Sentiment Hits Chiang Mai
The other day I wrote an article about the bars in Chiang Mai being forced to close before midnight. That was only the tip of the iceberg it seems with anti-pub and anti-bar sentiment reaching an all time high in Chiang Mai with the following posters being plastered along Chiang Mai road, the same road as the new Spicy club in Chiang Mai.

I went down and took photo's of the signs along the road, some in English, some in Thai and some are in the northern dialect, I guess they're trying to cover all basis. Chiang Mai road is a very short road that leads down to the river from the moat and to one of the main markets in Chiang Mai. There is a bar up the top as well as the New Spicy Nightclub which I can only assume the backlash is directed at. Since the posters were put up Spicy had to close at 1am.
I couldn't find anyone who knew who made the posters or anyone willing to talk about it except for one shop owner who would only say that it's a good thing. See the local council didn't send out notices to shop owners to ask their permission to open a club in the street just as the council never sent out notices to the bar owners on Loi Kroh road that they had to shut at midnight. Instead the police were sent to enforce things. Most people I've talked to are blaming the Chiang Mai City council for not doing things in a way that minimizes this sort of backlash and sending the police in first is not the right message, treating bar owners and club owners as criminals.
As you can see from the posters the residents of Chiang Mai Road are not happy with any pubs in their road and they don't want to see it become another Loi Kroh road. Which is fair enough. Loi Kroh road is already zoned for the bars and Chiang Mai road isn't, why the council even allowed Spicy to go into the street to begin with is beyond me, they knew what was going on. More than likely no one at the council even thought about it allowing them the license if the paperwork was filled and money paid. I don't know the protocols for such things but I'm sure there should have been more than that.
You could start to think that this is some sort of Anti-Farang pitch too since the places that are being forced to close are predominately farang owned farang frequented and yet all the Thai owned Thai frequented places enjoy impunity and close at 4am in the morning.
Personally I feel sorry for the people of Chiang Mai Road because they have to now put up with all the drunken lards of Spicy Nightclub, people pissing in front of their shop houses and throwing up on their front doors, the noise of people pouring out of the club. If I lived there I'd be pissed too.
In fact a bar opened across the street from me a while back selling alcohol to the uni kids in my area. They sit their in the school uniforms drinking until 3 in the morning most nights, throw up in front of my place, cigarette butts everywhere and fill my wheely bin with all sorts of trash that I have to go through and sort out because the council won't pick it up unless it's in a black plastic bag. What anoys me most is there was never any notice before hand to allow residents to protest about it before it opened. In fact I doubt they even have a license to sell beer. But what can you do, go tell the police and if they do actually do anything it's likely they will tell the owners who dobbed them in and then it's all over for me.
Noone knows where this will end up or if Spicy is going to be forced to move or not. Like most protests I can only assume that it won't be too long before Spicy closes at whatever time it wants and the beer bars of Loi Kroh road again start closing at 1am.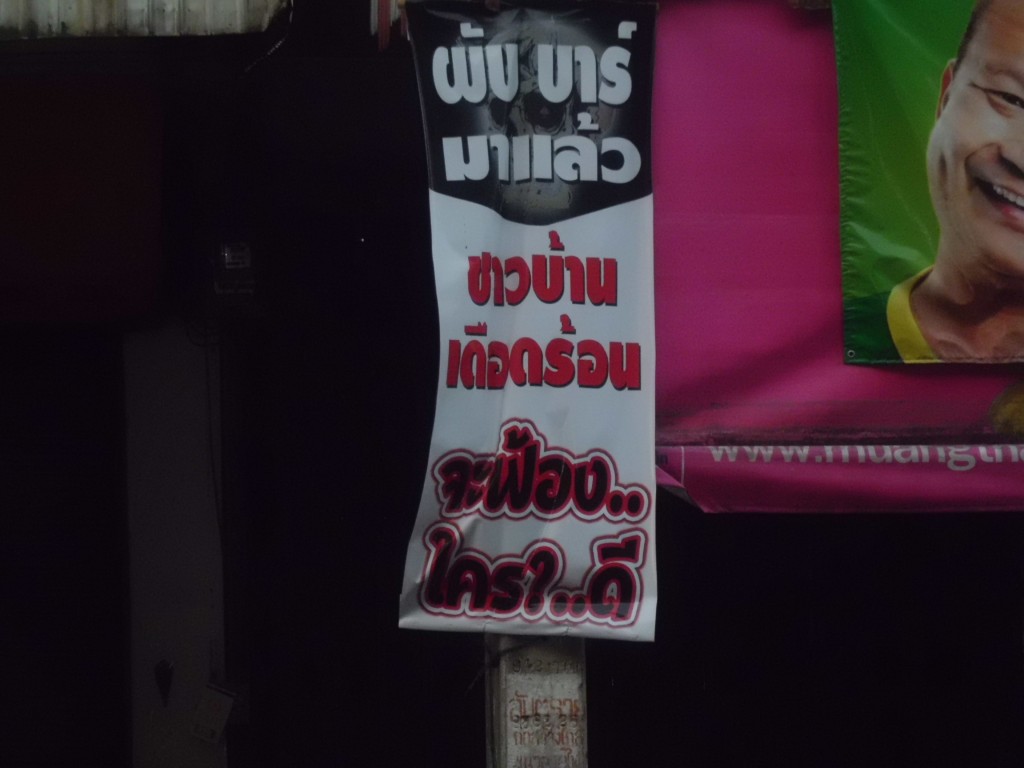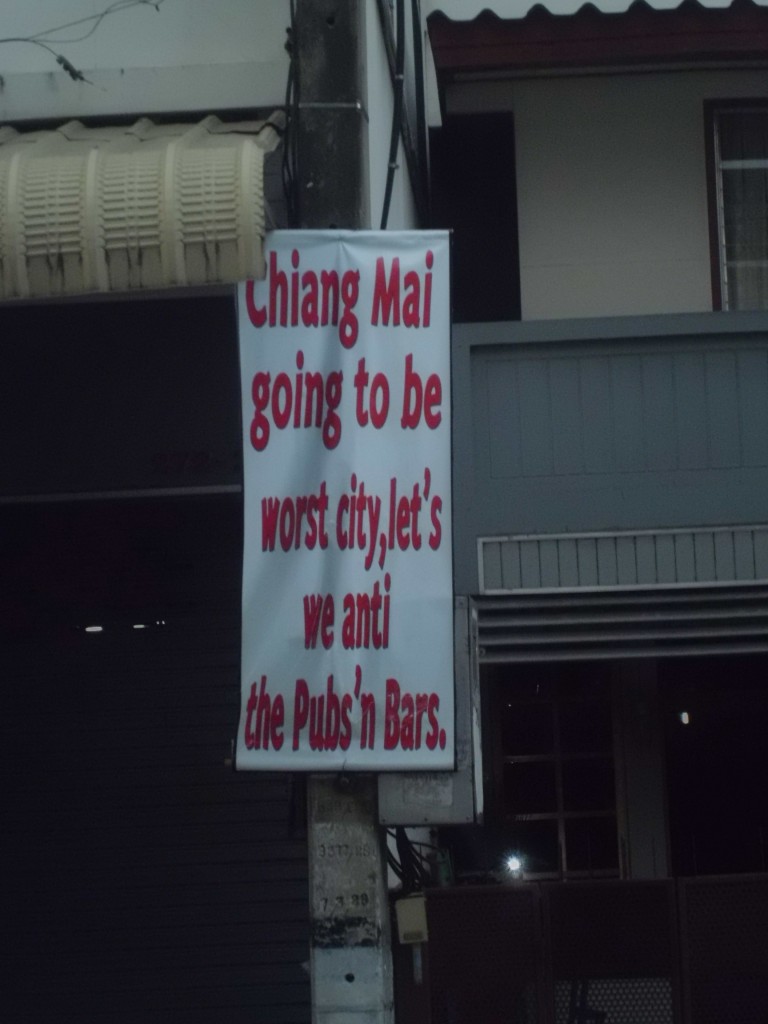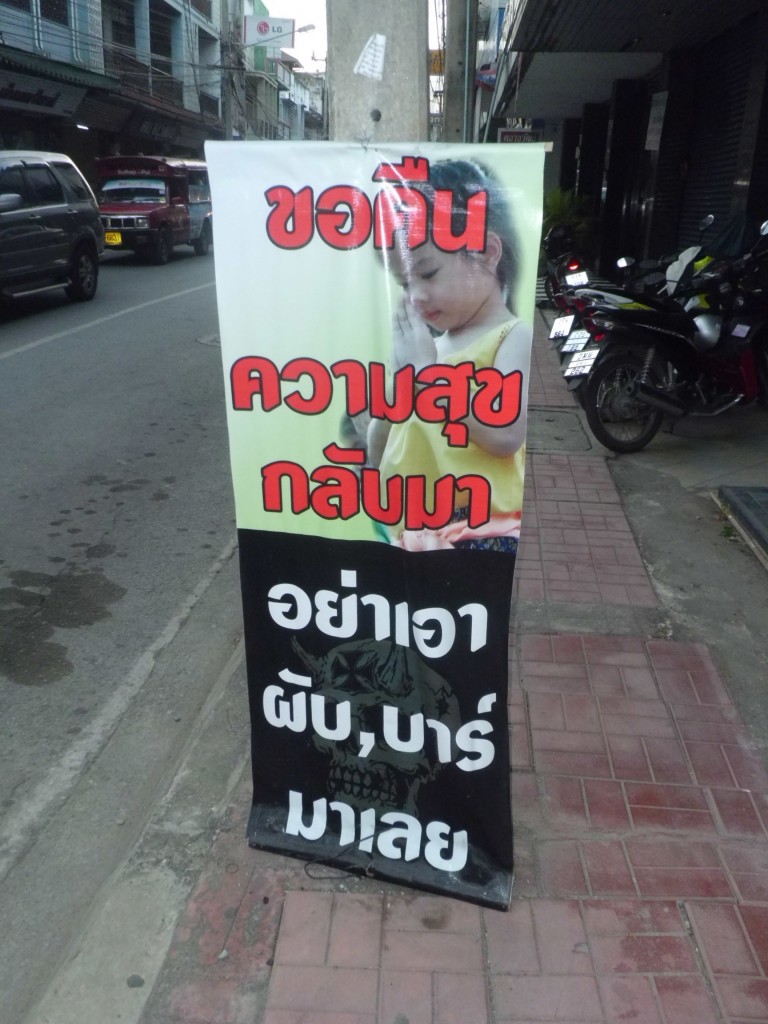 Related Posts: