Anyone Else Tired of Thai beers?
Europe is loaded with amazing beers and the craft beer scene in the U.S. is exploding. Even chain restaurants carry seasonal ales and give you a decent selection. A trip to the Supermarket or liquor store is like going to a candy store when you were young because there are so many great options to choose from. But I live in Thailand, and for the first time I have to admit…I'm jealous!!! And boy those visits home are destined to be less and less sober with every year that passes having to work with the Thai staple beers for 11 months per year.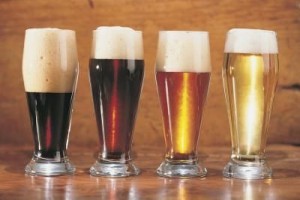 Don't get me wrong; if I was on a vacation in Thailand I'd be very happy with the local beers. And as a matter of fact Singha is sold in some restaurants and beer markets I know of in the States and it generally gets positive reviews. So I don't think Singha, Chang, Tiger, and Leo are bad beers, and as a matter of fact I prefer that group to the core American beers: Budweiser, Coors, and Miller. I'm simply tired of them; I need more beers and I need better beers. And don't even get me started on Heineken; I was tired of Heineken a decade ago. Cheers? Archa? Sorry, not my style.
I know there are plenty of people who really fixate on one particular beer and are perfectly content to stick with it. Budweiser in the U.S. tastes like watered down….water, and that doesn't stop it from being the biggest beer in the country. But until you kick back a few IPA's like DogFish Head or a Hefewizen type like Tucher from Germany, I just don't think you know what you're missing. And the selection is so important to me and unfortunately it gets better and better everywhere but here.
The Western style Irish pubs usually have a cider like Magners. It's really not technically a beer, it's a cider, but it is damn good. It's also 5X the price of a Thai beers and it's just one more option, which isn't enough. The international super markets carry some decent international brands beers as well. Again, the prices aren't great which is to be expected, and taxes on international beers may be going up soon which of course will be passed on to us. But between the Irish pubs and the Supermarkets there is just enough of a variety to get by even at the extra cost, but I would do anything short of homosexual acts for a Dogfish Head beer right about now.
I'm not a big drinker, and I rarely drank hard alcohol in the U.S. I was a beer guy, and with so many amazing seasonal and local brews to choose from every weekend I would never put the option of a hard drink over the option of an incredibly tasty beer. The unfortunate thing for me here in Thailand is that I'm turning to hard alcohol more than ever and only because I'm sick of a typical restaurant's beer selection here. Johnnie Walker Black/coke or Tiger? Well, I'm at the point where I'd choose anything over Tiger, so Johnnie Walker wins all day every day at this point for me. I know what you're thinking, and yes this does sound like an alcoholic's line of thinking. It does sound like I'm making an excuse to hit the hard stuff on a Tuesday. But I'm not talking about drinking at home while I watch TV, I don't do that. I'm talking about grabbing a drink with buddies or at dinner. It's either Thai beer, Heineken, or a real drink, and damn it I'm going with a real drink these days and I'm not an alcoholic…not to my knowledge, not yet anyway.
I have had some decent brews from restaurants that make their own, there's a few out there, but I haven't been blown away. They certainly haven't been good enough for me to travel a good amount further to get to them. But it's entirely possible that you know of something I don't. Please comment below!
After some seriously personal topics of discussion, such as personal budgeting, I thought I'd write about something more fun today. And since my friends are as tired of me complaining about the beer selection as I AM of the Thai beer selection, I had to bring my sentiment to the site today. I envision most people agreeing with me, but we're on the damn internet, and as most of you know, the internet is flooded with people who can't wait to start debates and call people out. Let's hear it though; are you with me? Are you ready for a Thai beer mutiny? Are you aware of a bar that actually has a decent selection of beers? Or are you still in love with Thai beers and you'd be lost without them?
Related Posts: