How much does it cost to get by in Thailand?
As a follow up to the article entitled, "How much does it cost to live well in Thailand," I felt it was necessary to share my thoughts on what it would cost to live decently in Thailand. You might find it interesting to compare the two; you can see the other article here.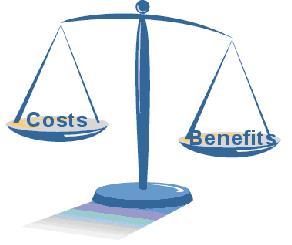 First the obvious disclosures; there are many places to live and some are much cheaper than others. In both of the articles I'm using a generic to all of Thailand budget, so there are some places where you would be able to spend less, such as Chang Mai or Khon Kaen, and there are other places where you would need to spend more, such as Phuket or Bangkok. Everyone has different tastes and different ideas on what a necessity is. Your idea of living well, living "fine" or living like crap may be different from the next guys. I do want it make it clear though, that I stand by my opinions in these articles. While I understand that there are folks out there who can't live on less than 150,000 Baht and there are some who live well on 15,000, I do not personally think this would be the case for the majority of people. I also think of that that my projected budgets in both articles should be particularly useful to you if you're thinking of permanently living here.
The following budget would be the minimum of what it would require to live in Thailand with some semblance of flexibility and unpredictability. Any less and I really feel the highlights would begin to be very few and far between and a level of monotony would set in. Congrats to those who are able to live well on less, but those folks are the exception to the rule, and perhaps the locations they live in are exceptional as well. I would describe the life of the following hypothetical person's budget as being content. No frills, no magic, no luxury, but certainly comfortable enough to get by with just enough ingredients for some level of quality. In Bangkok or Phuket I'm actually not so sure that I could do it, but in most other places it would be possible.
Entertainment/Going out- 7,000
Rent – 5,000
Traveling- 2000
Electric- 500
Water- 200
Groceries- 3,250
Gas- 250
Haircuts – 250
Bank fees- 700
Cleaning – 0
Toiletries – 400
Internet – 300
Electronics – 800
Household- 500
Medical- 400
Cable TV- 300
Phone- 300
Clothing- 600
Visa- 2,000
Misc- 3,000
Bike- 1,400
Gym- 0
Total- 29,350 Baht or $957 USD or $741 EUR
So you can compare that to my "living well budget" of 72,000 or my slightly cut down version of the living well budget, at 57,300 (from the same article).
The Breakdown:
Call me crazy but 5,000 Baht is my minimum level for rent. I know people who live in places for 3,000 who aren't complaining, but they'd do much better for the extra 2,000 baht per month. With some looking around you can find a decent place for 5,000, decent enough not to be depressing for most.
The going out and entertainment budget of 7,000 is tight. If you have a girlfriend you could take her out to eat dinner once or twice per week, you could catch one happy ending massage per month (or a couple of regular massages), you could catch one or two movies each month, you can go out and drink beers with your friends once per week, and you could even get one soapy or see one bar girl per month. It certainly doesn't sound so bad, but keep in mind that I'm stretching it as far as I can. There's no buying a round in there, there's no drinking cocktails or imported beers, and forget about a GoGo. Still, this category is a testament to how affordable Thailand is, because we seem to be getting just enough for only 7,000 Baht which is a miracle. And Thailand strikes again when it comes to free entertainment, being most fun daytime activities are free thanks to great weather and plentiful activities.
I cut down on the food budget a bit, which means goodbye to: good coffee, to any imported brands of just about anything, and to most soft drinks (which isn't such a bad thing to cut out I guess). We cut the electric bill down to a level of actively conserving it whenever possible. You'd be down to having air conditioning only right before you go to sleep. With electronics I left enough so you can buy a half way decent phone when you need one, a discount laptop every 4 years, and a flat screen TV every 4 years. Internet we're down to getting a WiFi plan, but that should do the trick in most situations. You still have the bike, and we kept the obvious necessities, (Visa, toiletries, clothing, etc.) at similar levels to the "living well budget." Miscellaneous at 100 Baht per day is the lowest I'm willing to go. That could be breakfast or a trip to 7-11.
The biggest chop here was the travel budget. In the "living well budget" enough was allotted to visit your home country, to explore Thailand, and to take some relaxing island trips. In this budget it's now just 24,000 Baht per year. That pretty much rules out a visit to your home country. Maybe it's just enough for round trip air fare if you book very early and get lucky, but that hardly seems feasible. More likely it would mean that you accept not visiting your home country annually; perhaps you could get away with going once every 3 years and taking a bit out of savings only for that very special occasion a couple of times per decade. This is up to your personal preference. For me it would be a problem; I can't go that long without seeing my best friends and my family. There are also some things back home that I enjoy doing and I'd hate to have to sacrifice all those things indefinitely. The only people I know who are content without visiting home have already lost both of their parents. Even then, it would be tough for most. But if you're ok without visiting home, you could use the 24,000 Baht allotted in this budget for two small, carefully planned, carefully budgeted perfectly enjoyable trips in Thailand per year. And this is also a testament to how cheap Thailand is, because two similar trips in other parts of the world would cost 5X as much.
The lifestyle described above is probably better than the average lifestyle people have in your home country. If I had the choice between living in the U.S. on $3,500 per month and living in Thailand for $1,000 per month, I'd choose Thailand in a heartbeat. But if I had the choice between working for 40 hours per week to live on 60,000 Baht in Thailand versus not working and living on 30,000 Baht, I'd choose work. And to give you an even more defined perspective, if I had the choice between working 40 hours per week to live on 100,000 Baht versus not working and living on 60,000 Baht, I'd happily choose not working. Agree? Disagree? Let's hear it.
Related Posts: