Travel Adaptor
One of the worst things when travelling is trying to plug your laptop into an outlet that doesn't fit or ends up blowing up. That's why you need a Travel Adaptor. A good travel adaptor will have the following features.
Be universal and able to adapt to any country
Be able to convert your power supply so you don't break or blow up anything
Be an all in one adaptor so you don't need to carry multiple items
Be reasonably priced.
Now if you wait to get to the country your travelling to and buy a unit there your basically wasting your time. You should be prepared. Do you really want to travel to say Bangkok and buy some cheap local made product that could break your Ipod or Ipad. I wouldn't risk it and nor should you. Get a Travel Adaptor before you leave there inexpensive and if you buy them online can save you running around a foreign country trying to find one.
One of the biggest reasons I bought a Travel Adaptor was because of my girlfriend. She has to carry her bloody hair dryer everywhere she goes. Last time we bought a travel adaptor in China and plugged in her hair dryer the hair dryer blue up and the lights went out in the hotel. True story. It was embarrassing to say the least.
List of good Travel Adaptors to buy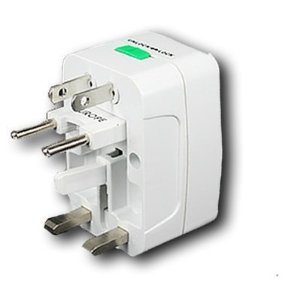 This is a very good all in one travel adaptor that will work in Any country. It's cheap and effective but won't work with hair dryers! everything else is pretty safe though. Click here for more information.
If you are travelling to a country that uses 220 volts then you really need to get this if you are intending on taking your laptop blackberry ipod etc. If you just use a regular Travel adaptor your going to fry your electronics. Save yourself from that and get this beauty. Click here for more information.
Related Posts: