Dirty Soapy Massage Parlours in Bangkok
Bangkok has hands down the best nightlife in Thailand and as for soapy massages you can't beet the number of places or girls working in the Soapies as you can Bangkok! I think I counted maybe 6 or 7 soapy massage parlors in Pattaya but in Bangkok there must be over 70! I didn't list them all here though because well I doubt there is one person out there that has actually been to them all so I've listed the ones you ought to try, the best soapy massage parlors in Bangkok. One thing about many of the Soapy massages parlors in Bangkok is many of them charge Farang extra and it doesn't matter how you arrive it's just their policy some places adding another 1000 baht to the bill for example one of the most popular soapies in Bangkok Poseidon clearly state on their menu that an additional 1000 baht charge is added making their cheapest girl 3000 baht! If your favourite soapy massage parlor is not listed please leave a comment and I'll add it to the list.
UPDATE: Did you know that an online escort is the same price as many of these Massage Parlors!
Map of Bangkok Soapy Massage Parlors
In order to view the map and websites you need to log in as VIP.

List of Bangkok Soapy Massage Parlours
Colonze 2
Emmanuelle
Colonze 4
Angelina
La Belle
Viva Palace
ลีลาวดี
Meree
Catherine
Amsterdam
Poseidon
Caesars
Plaza
Nancy
Copa Cabana
La De'fence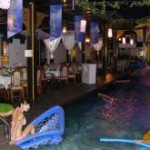 Some of the most expensive soapy massage girls in all of Thailand can be found at the Colonze 2 soapy massage parlor in Bangkok with prices going up to 20,000 baht for a few hours! Why because they have the hottest girls of any place in Bangkok.
This place is also Farang friendly and should be no surcharge.

If your looking for a Best Happy Endings Massage in Bangkok experience then the one place I suggest is Emmanuelle! There is now Casanova at the same place which is Thai style karaoke and coyote joint something I enjoy more than the actual massage, rooms here are awesome! Price range 2500-6000 baht.

This is a very popular chain soapy house you won't find any penthouse models at this bad boy but it does have good value for money and the girls are very capable, not looking for 5 star then this is the place to go! Prices start 1600 - 3000 baht makes this place good value for money.

An older Thai style soapy massage parlor in the Bangkapi area of Bangkok prices are very reasonable starting at 1300 up to about 2600 for the sideline girls. Open from 1pm till midnight every day. There is no extra charge for Farang! There are some cute girls here but nothing outstanding.

This is a soapy massage parlor that caters mostly to the Japanese clientele well so I'm told I've never been here before and their website doesn't have much in the way of costs so I'm guessing that's a sign that they have more than a 2 tier pricing structure which isn't really fair especially for guys that live here.


Another Thai style soapy massage with decent prices starting from 1900 up to 3000 baht. I don't know how old this place is but the rooms are kinda warn in so don't expect a 5 star room but then again your not paying 5 star prices either. Helps if you speak Thai here the girls don't speak much English at all. But I will say this the girls here are young and good looking for the price.

You won't find this bad boy on any other Farang website actually this place has the same name as my favourite Karaoke in Chiang Mai! Pronouced Lee Lah Wadee also the name of a famous Thai Soap Opera they actually have Karaoke available here as well. Honestly the girls are a little country here but if you like that then this is your place!


The girls here are cheap but the room isn't included you can ask for different rooms girls are 1300-200 baht but rooms start at 1000 baht but are definitely worth it, weired lounge area with band playing kinda like karaoke but it isn't, still great place and some really good looking girls.




Nice clean place this soapy massage parlor has a good reputation in the Thai community well run and fair prices starting from 1700 up to 3000 baht for sideline girls. The bathroom although it has granite tiles has a cheap ass jacuzzi that is well worn. I'd give this place a 7 out of 10.
d
This place looks straight out of France and the prices might be as well starting at 2600 up to 6000 baht the place is brilliant and the girls are gorgeous! This is one of my must see recommendations for a soapy massage in Bangkok. You'd think this place would have a website but I couldn't find one anyone know what it is?

Voted the Best Soapy Massage in Bangkok but most though I don't like the place because they charge Farang an extra 1000 baht just for the services yet they still have some of the best girls in the businesses. Because of the extra charge I won't go there but guys have told me half the girls there are just going through the motions and you'll get a robot experience.


Located right near the Poseidon club and roughly the same prices is the Caesars entertainment complex and soapy / spa massage. Definitely take a model here if your coming if you want the cheaper girls you may as well go elsewhere you might find something better for the same deal.


Strangest name for a soapy massage that I ever did see. This place has a lounge area with girls as well as a traditional fish bowl. The girls in the lounge are hotter in my opinion but you can also ask the guy for an album and he'll bring you out an album full of girls.

One final note about Soapy Massage parlours in Bangkok and Thailand in General is you have to think about how many guys go to these places and all the guys arn't like you and I some are real freaks, some guys have some nasty diseases and some guys force the girls to not wear a condom! Make sure you protect yourself by wearing a condom and not going down on the girl. It's still possible to catch something though so use these services at your own risk.
For other soapy massages around the country try these links:
Chiang Mai Soapy Massage Parlors
Pattaya Soapy Massage Parlors
Related Posts: