Top 5 Best Travel Computer Netbooks
So your looking for a laptop to take with you on your round the world adventure but your not sure what kind of notebook or Netbook to get. If your like me you don't want an expensive laptop large and cumbersome travelling to remote parts of Thailand. You want something light weight small compact and energy-efficient.
Netbooks really came onto the market a few years ago when Asus released their version of a Netbook back in 2007. Now all the big manufacturers have made Netbooks and is still a growing market. A Netbook is not as powerful as a laptop but it's perfect for word processing surfing the web and loading your photos if that's all you really want to do while you travel then you'll just love having a Netbook. Oh yeah Netbooks are super cheap!
Now a Netbook doesn't have as much power as a full blown laptop computer but it's not like your programming android devices or creating the latest kindle game now is it. Writing an email on an iPhone might be possible but it's annoying as hell if you want to write a lengthy letter or several this is when you know you need a Netbook. If you like big ass screens then your probably better off going with a laptop.
Netbooks are lightweight, low-cost (most Netbooks sell betteen $250-$400), and are extremely portable that is if you don't mind carrying a side pack around which is useful when your travelling anyway. A Netbook used to be expensive back in 2007 but 5 years later they are much more affordable, faster, more powerful, and so much easier to use.
Here picks of some of the best netbooks out there on the market right now:
Acer Aspire One AO722-0473 11.6-Inch HD Netbook (Espresso Black)
Acer Aspire One Netbook
The Acer has a fast AMD Dual-Core Processor that makes this Netbook fast and smooth. Comes with a windows home edition for those people who like using windows. A 320gb hard drive and 2GB DDR3 ram makes this Netbook read more like a laptop. But it still is a Netbook and even though it has an 11.6inch screen it still shouts small and weighs a measly 3.21 pounds!
For more information Click Here.
Nokia 10.1-Inch Booklet 3G (Black)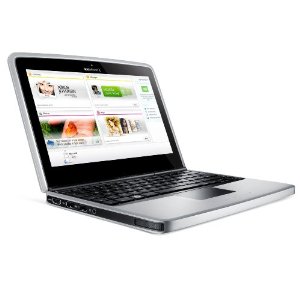 Nokia Booklet 3G
This is the only Netbook on this list that has built in 3G capabilities. This is a great feature let me tell you, the convenience of having a Netbook or booklet as Nokia has named it is the ability to go anywhere and do anything yet still have computing power available. Internet is an important thing and if you just have your Netbook without the Internet you may be better off just carrying around a pen and paper.
For more information Click here.
ASUS Eee PC Seashell 1215T-MU17-SL 12.1-Inch Netbook (Silver)
 Asus Netbook
Asus in my mind is one of the best players in tablet computers and Netbooks. The products they make are always small, durable and have as many features as the latest iPad. The Asus Seashell 1215T is no exception either. It has one of the biggest screens in any Netbook on the market, a clear webcam built great for travelling and using skype. Runs on a windows home premium edition and has a nice 350GB hard drive.
For more information Click Here.
Dell Inspiron iM1012-799CRD Mini 1012 10.1-Inch Netbook (Cherry Red)
 Dell Mini Netbook
You know Dell get's a bad rap sometimes but I really like their products, they always look great and work well. The Dell Mini Netbook is a great but probably not the best value for money. It's 10.5 inches by 7.8 inches making it super small and portable. Though the Netbook only comes with 1GB ram and a 250GB hard drive it still performs extremely well for all the tastes you'd need to perform while travelling around the world.
For more information Click Here.
Toshiba NB305-N600 10.1-Inch Netbook (Blue)
 Toshiba Netbook
You know I think the Toshiba Netbook NB305-N600 has one of the best screen resolutions of any of the discussed best Netbooks on this list. The rechargeable lithium-ion battery the Toshiba Netbook comes with lasts super long they say about 8 and half hours but all depends on what your doing, if your just surfing the Internet then this baby will probably last about 7 hours.
For more information Click Here.
Related Posts: