Where to travel in Thailand
You can never really run out of places and attractions to see in Thailand. With spectacular beaches, ideal weather, affordable prices, and an interesting and well defined culture, there are too many destination options to list. Regardless of where you go in Thailand you can probably find something enjoyable to do and you'll always find a good value on accommodations and activities. But there are places that you just have to have on your bucket list and I'll break them all down below.
Bangkok is loud, obnoxious, and polluted. It has too many people and the traffic is hard to deal with. And in spite of all of that, it's still an amazing city to visit. The shopping and the food in Bangkok rivals almost any place on the planet. Bangkok might not be the cheapest place to go to in Thailand, but for as large of a city as it is, the bargain hunter prices for food and accommodations are about as cheap as it's going to get. The nightlife is outstanding, especially for single foreign men. Bangkok is a place where you can have the wildest weekend of your life without breaking your bank account.
Pattaya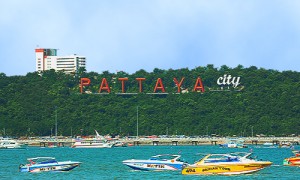 Pattaya is only about a 90 minute ride from Bangkok and the bus ride will only cost you 120 baht or about 4 USD. If you took all of the Gogos, bars, restaurants, and night clubs from all of Bangkok and transplanted them onto two long streets across from a beach, you'd basically have Pattaya (although you'd have to add more GoGos). The beach in Pattaya may not be postcard worthy, but it's very near two nice islands, Ko Lahn and Ko Si Chang. You can have as wild or even more wild a time in Pattaya than in Bangkok, but at the same time it's much more relaxes without all of the craziness of the major city. Prices on everything are very affordable in Pattaya, even for a vacationer. It's obviously not a place for couples though, where I think a couple would enjoy a weekend together in Bangkok. Pattaya is and will always be Disney Land for horny men and it's as simple as that.
Chiang Mai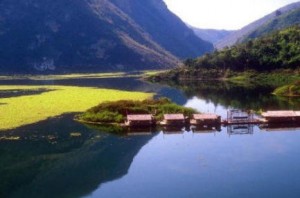 In Northern Thailand you can't miss Chiang Mai. Here you can really get a true taste of Thailand, and a much milder climate than anywhere in Central or Southern Thailand. You won't find beaches, but the scenery can be breath taking at times with a great variety of mountains, waterfalls, and lakes. Chiang Mai is probably the cheapest tourist destination in Thailand and it would be difficult to really blow money there. You'll find great food and cultural icons throughout Chiang Mai, and the nightlife is good enough, certainly better than you'd find on some remote islands. Adventurous types will find great places to hike, rock climb and mountain bike. Chiang Mai is a major city so you can find just about anything you're looking for, but the air quality and the pace of things are the opposite of Bangkok, which makes it a special place.
Ko Chang/ Ko Koot

Ko Chang and Ko Koot are islands off the coast of Trat, a province located a few hours east of Pattaya on the gulf of Thailand. You can take a boat from Trat to Ko Chang which is pretty close by or you can go further in the same direction to get to Ko Koot. You'll want to check each island out if you ever get the opportunity. Ko Chang is much more developed and there are actually multiple sections of along the beach of Ko Chang that have a spread of hotels, restaurants, and bars. The most popular of which is White Sand Beach. White Sand beach is a quick enough ride from the pier and it has the most hotels, bars, and restaurants of anywhere on Ko Chang. There's actually a section of bars with bar girls in White Sand Beach; I would guess there's about 10 bars in this section with about 50 girls working each night. If you head down the coast from White Sand Beach further away from the pier you can find some amazing beaches with very few people on the beach. I actually go as far down as possible to ensure that I'll have the beach all to myself. But there's plenty of stuff to do on Ko Chang in addition to the beaches. I went on a 6 hour hike up and down the highest point on the island and it was one of the best experiences I've had in all of my time in Thailand. Ko Chang also has waterfalls, elephant treks, and many island tours start there in the morning. The beaches are great, but they're not world class either. However, you get a good mix of everything in Ko Chang, it's been developed enough to have options, but not too much so where you can't relax. Ko Koot is much less developed but has impeccable and gorgeous beaches. The accommodations can be expensive on this island and there isn't as much to do, but if you're looking to get to a beautiful beach without flying and with very few people, Ko Koot is the one.
Ko Tao

Ko Tao is about an hour and a half ferry ride from Koh Samui in the Gulf of Thailand. It's known for two things: a beautiful beach and great diving/snorkeling. I think it's an ideal place if you want to just relax and go diving for a few days. It's a backpacker haven thanks to an assortment of cheap, all be it non-luxurious bungalows. They have a few nicer places to stay if that's what you're looking for, but that's not really what Ko Tao is about. There are restaurants and bars along Sairee beach, but it's certainly not party central. The diving is legendary in Ko Tao and it seems like most people who go there do so for the diving. Some of the diving shops actually give you free lodging if you dive with them. The beaches are postcard worthy; but Ko Tao is the place for you if you dive or want to learn.
Phuket

Phuket is the largest island in Thailand and it's all the way to the south of the country. It's a jump off point to some incredible islands if you take a ferry south, but Phuket is no slouch itself when it comes to beaches. Phuket is spread out and it basically has everything you could ever want to do in terms of activities, beaches, tours, hiking, etc. It's a completely developed island, so there are malls, movie theatres, and many great restaurants. Phuket might not be the cheapest place to live, but for everything it has going for itself in terms of a vacation, it's nowhere near as expensive as many other beach cities in other countries. There are very expensive 5 star resorts, but bargain hunters can easily find good deals on 3 star hotels, since there are so many of them. Phuket is big and spread out, so there are a lot of different destinations that might appeal to you depending on what you're looking for. IF you're looking for a wild time, head to Patong. Patong is a hot spot for anyone looking for a crazy time on and near a nice beach, catering of course to foreign men. It's more expensive than Pattaya in just about every category and you don't get the same amount of options, but it's just so much nicer!
Phi Phi

Phi Phi is a set of islands south of Phuket. The boat ride from Phuket isn't too bad, maybe an hour and a half or two hours. Phi Phi town is very popular with young European travelers. There are many bars and cheap enough guest houses in the area near the pier. It's a fun and interesting little town with plenty of bars, restaurants, food stalls, internet shops, dive shops, and retail vendors. The beaches on the main island, Phi Phi Don, are nice, but you don't go all the way down there for just for those beaches. You go to see some of the nicest beaches you'll ever see by taking a long tail boat (tour or private) to check out Maya Bay and Bamboo island with a couple of other spots to see. The entire area has incredible rock formations that you just don't see in many places in the world. Maya beach attracts too many tourists, but if you get there early in the morning before everyone else its paradise. Not enough people go to Bamboo Island; the color of the water there is hard to believe!
Ko Pha Ngan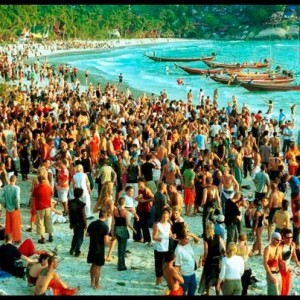 A quick boat ride away from Ko Samui or from Ko Tao, there isn't much you have to know about Ko Pha Ngan. It holds the Full Moon party once per month where hordes of young European travelers get wasted and dance at clubs on the beach. IT's a wild time, and once you wake up the next day you're ready to get back to wherever it was you were headed.
Ko Samui

Ko Saumi has stunning beaches and it's a prized honeymoon destination because of this. It's also one of if not the most expensive destination in Thailand, but it's the ideal place for a romantic getaway if you want to splurge. Ko Samui has a little bit of a nightlife going for itself, with some beer bars and even some night clubs. But you wouldn't go to Samui just for the girls as there are much better places for that. You go to Samui for the incredible scenery and the beautiful beaches, more than likely with a special someone.
Related Posts: