Guy Beaten and robbed in Chiang Mai
I get to hear a lot of gossip and lots of stories from guys around Thailand and especially Chiang Mai. This story was sad but kinda funny so I thought I'd share.
This guy is down at Spicy late at night drinking with his girlfriend when they decide to head home and takes a shortcut through the soi. The man claims he didn't say anything to these rather mean looking Thai guys when he was attacked and his girlfriend runs off. He's left bleeding and badly beaten with noone around he tries to get himself up and walk home.
Not long after is met by a ladyboy who sees the poor guy and goes to his aid. She/he helps him home and cleans up his wounds and he proceeds to fall asleep. Waking the next morning fealing awful he does what he does every morning and opens his laptop to check his mail. Only he can't find the laptop or his camera, wallet actually everything that was valuable was stolen.
Moral of the story is: Don't say stupid shit to people in the street and show a ladyboy where you live.
Thai Girl of the Week - BaBa
Age: 22
Location: Mueang Samut Sakhon
Height:  5' 4" - 163cm
Weight: 121 lbs - 55 kg
Body Type: Athletic
Education: Bachelors Degree
Eyes: Brown
Hair: Black
Smoking: No
Drinking: No
English ability: Some
Thai Ability: Excellent
Have Children: Unsure about having kids
Video of the week - Motor expo 2013
Seems that the only way to get a job as a model with a car brand is to have a fake nose.
Thai word of the week - บะหมี่
This weeks word is: บะหมี่ pronounced "ba mei" these are chinese egg noodles I've only seen yellow and are probably the tastiest of all the noodles they eat here in Thailand. This kind of noodle is typically ordered with red pork dry or with a chicken/pork broth though lots of variations exist including another favorite dry with BBQ chicken. If you see the hanging red meat ask them if they have "ba mei".
Thai book of the week - Lost and Found in Thailand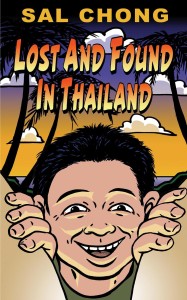 Sal Chong is in a world of hurt living with his future ex-wife in San Jose California. His life is in a rut and he's desperate for a change. He discovers that his friends are planning a junket to Thailand and finagles himself an invitation to what will be a landmark and life-changing journey. Throughout the book, the author chronicles the events, people and places that he discovers, guiding the reader along the broad arc of his twenty year odyssey to convey valuable insight to the novice traveler to the Land of Smiles.
Lost and Found in Thailand is a well written, first person account of author Sal Chong's own experiences over his more than two decades in Thailand. The exhilarating times are often tempered by the ultimate reality of the Thai-farang relationship but Sal always bounces back to take the next high to even greater heights. The author gives a crash course on how to navigate the sensual landscape of the Kingdom, relating his own amazing experiences with the most beautiful Thai women, close calls with equally beautiful but deceptive ladyboys, and tips on how to make the best of a good time.
Thai song of the week คนคุ้นเคย by GETSUNOVA
This classic Thai club song is one you should know, if played at the right time clubs nearly always get an energy kick and if you can at least learn the chorus of this song I garuntee that it'll make your night more enjoyable.

Movie of the week - Robocop
Normally I'm not fond of remakes but this just looks sick! Not out but coming soon. RoboCop opens on February 12, 2014.
Question of the week
Normally I answer peoples question in this section but to be honest with you I don't know everything and one thing you know I DON'T know about is English and grammar. My question this week is if I wanted to teach my gf how to speak English, what's the best way about it?
Have a Question? Please use the Contact Us page.
Guest Posts? If you're a website owner or just someone with a story to tell and like it published on Living Thai please submit a post.
Related Posts: