Lying Farang
Isn't it amazing how many people lie in Thailand. First you might think that it's the Thai's that lie the most, mainly to save face. But I've found that it's more often than not that the Farang are more likely to lie, and it may not have anything to do with saving face, or does it?
Lying is only the start of the character weakness of many a Farang in Thailand. Cheating, scamming, bullshitting the list goes on. Otherwise honorable people come to Thailand and somehow find their true selves or are they turned into total cunts by Thai society?
While I still believe that the Thailand expat has a much better social standing than an expats in Cambodia I still come across guys on a weekly basis that are just so full of shit they seem to believe their own crap. Sure talk yourself up but don't kid yourself.
Take for example the guy that told me he owns his own clothing line, in reality he sells a few t-shirts and baseball caps on Facebook. Or the professional Thai Kickboxer who in reality trains in his apartment and does exhibition matches against Ladyboys. Or how about the guy who owns a Ferrari in Singapore whom I found out really just took the photo of him sitting  in a car at the Bangkok Motorshow.
Then there's the Farang who live in an alternate reality who's trip report on Pattaya Addicts that shows 20 odd girls all over 30 with 2 kids whom he says are all Maxim models. The Farang who says he lives like a King in Thailand but resides in a 2000 baht 20sqm apartment and waits till closing time at Tops every day to get half priced bread (not a bad idea actually but I think you get the idea).
Telling the truth in Thailand honestly  doesn't get you much. Ever wonder why in Thailand no one will ever come around and ask you if your meal was good? That's because most Thai people will say "yeah good" while keeping face, even if it was terrible! So what's the point of asking? If you said it was shit or found a cockroach in the meal and you told them that you think you'll get the meal for free or have your criticism welcomed? Dream on! May as well lie about it and say the cockroach was super tasty thanks.
The only thing you need to lie about in Thailand is how much money you have. Tell everyone your flat broke.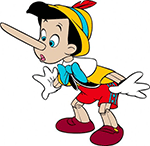 Related Posts: