A monger's guide to Cebu
What do you know about Cebu? Chances are, not a lot. I was the same until I finally got on a plane and flew over from Manila on my last visit to the Philippines. Cebu isn't a city that you necessarily hear a lot about. But it does have something to offer guys like us.
Of course Manila and Angeles City are the two most famous places in the Philippines for both picking up chicks and whore mongering. It couldn't be much easier in those cities, so a lot of guys see no need to go any further. But it can help to get off the beaten bath, whether that means going to Udon in Thailand or Cebu in the Philippines.
For a lot of Asian guys, Cebu is the more famous city. It's not even on the radar of a lot of other guys, but there is a sizeable nightlife component considering the population. Since this is the Philippines we're talking about, that also means there is a lot of opportunity for mongering.
Mango Square and Mango Avenue
If you ask most Thais where the prettiest girls in the country come from, nine out of ten will quickly tell you Chiang Mai. If you ask Filipinos the same question, a lot of them will tell you Cebu. You can definitely find a lot of hot chicks in Cebu, but you might not find them in Mango Square. You might find some on Mango Avenue.
You see, the Mango Square mall area and Mango Avenue nearby is very loosely like a kind of Soi Cowboy except that it's a lot more open and disorganized. I have never been approached by a child beggar or a ladyboy street walker on Soi Cowboy. I have experienced both at Mango Square, and within ten minutes of my arrival.
But the Mango area does have its share of go go bars, along with sports bars and regular pubs that have girls inside. There aren't as many as there were even a few years ago though. I guess they are tearing stuff down and making way for the mainstream which means probably more malls and condos. It sort of reminds me of Queen's Plaza in Bangkok in that way.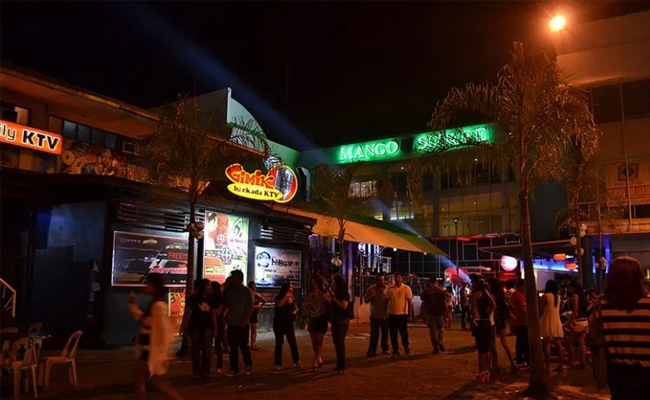 In the handful of go go bars that do remain, barfines are around 4000 Pesos, which is around 2400 Baht. But you don't have to pay the chicks anything on top of that. The biggest problem you face might be that a lot of the chicks only go with Korean or other Asian guys. As a white, black or brown man you might be out of luck.
The same goes at most of the nightclubs in the area. Half of the patrons will be Korean guys. Half of the other half will be Filipina hookers who only spread their legs for Korean guys.
You can also find freelancers around Mango Square. They are more open to non-Korean guys and they'll go to your room for a lot less than a go go dancer. But who knows what they will do when they get in there. They're maybe not the most upstanding bunch, and plenty are ladyboys or real girls who look like guys in dresses.
Escorts in Cebu
There are party towns where you like to get out and explore and have fun. Then there are the places where you can have more fun without actually leaving your room. I had a pretty good look around Cebu, but I found that it was better just to order in.
Don't get me wrong, as long as you are street smart I recommend going out and getting to know any place you travel to. But that doesn't mean you have to partake with what you see. I once walked into a bar in Saigon with two ladies old enough to be my mum. They offered to blow me right in the bar, for the low price of just about 6000 Baht. I said no thanks and left, then went home and wanked. It was the better choice.
In Cebu you now have the best option of all now, which is Smooci. All you have to do is open the website to see all the escorts available at the moment. You can see their verified pictures and stats, as well as a list of what they do and how much they want to do it. If you find one you like, you click book and she comes to your place. What could be better than that?
Smooci is a life saver in times and places like these. It is now getting to the point where I try to travel to cities where Smooci is operational just so I know I have the option to order up a girl right to my room if I need to. Dating and hooking up in Asia is pretty easy, but even the best guys strike out from time to time. And even if you're willing to pay you don't always find great options. I am glad we have the internet!

Related Posts: